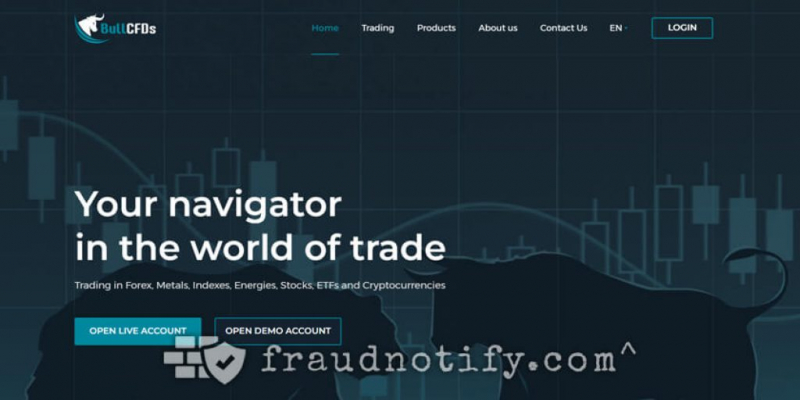 bullcfds review
BullCFDs review
Information about the project
BullCFDs review: BullCFDs is a scam, and we'll show evidence to support our accusations. BullCFDs has a space theme to its website, which is apt for its name, referring to one of the largest space telescopes. It also serves the secondary purpose of presenting the broker's philosophy straight away, as we correlate tech and space. In essence, BullCFDs aims to be a modern brokerage that provides traders with access to modern trading technology. The goal here is to make trading both more effective and more accessible at the same time. That might be a tall task, but it's definitely admirable that the broker is so ambitious.
Are Funds Safe with BullCFDs?
With such lack of information and BullCFDs being offshore, funds are not safe. Security of funds is a huge problem with offshore brokers. A red flag that we noticed is BullCFDs is withholding vital information to users.
BullCFDs could go bankrupt from one day to another, since there are no banking information about this broker.
BullCFDs — Contacts
URL: https://www.bullcfds.com/
Phone: +442037610878
E-Mail: [email protected];
Trust risk
Worth trusting?
BullCFDs is an offshore broker. The problem with offshore brokers is that they are not reliable and abuse the regulations. Make sure to stay away from this broker as they are anonymous and that they can disappear any time without notice.
To make sure you are dealing with a regulated and known broker, you should be able to find easily who is the CEO of this brokerage firm, who is running it etc. Lack of information is a big red flag since you don't know who will be dealing with YOUR MONEY. This is the reason why your funds are not safe with BullCFDs.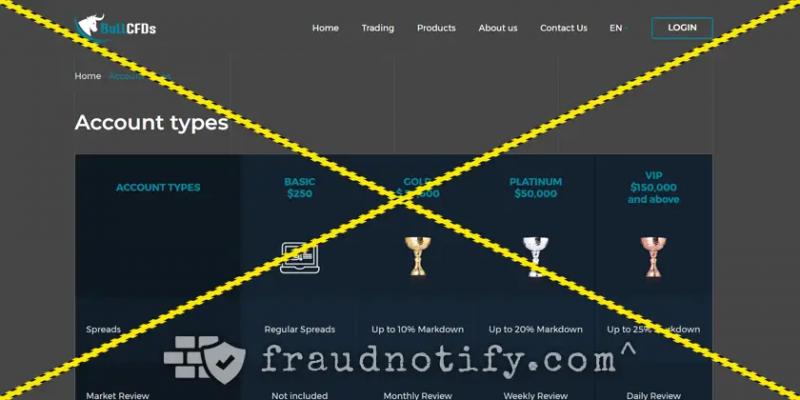 bullcfds.com review
BullCFDs provides access to indices such as S & P 500, US 100, Dow 30, Nikkei 225, DAX Index, and UK 100 at low fees and executed quickly. Last but not least, diversification is best when trading on commodities like gold, crude oil, natural gas, and corn.
The broker BullCFDs is an offshore broker.
The problem with offshore brokers is that they are not reliable and abuse the regulations. Make sure to stay away from this broker as they are anonymous and that they can disappear any time without notice.
The EUR/USD spread delivered by the software is 0.2 pips, which is a fantastic Buy/Sell difference, but BullCFDs is a scam, so don't get excited.
In fact, most regulated brokers provide affordable spreads of 1 pip or below, and if you follow the links provided throughout the review, you'll find high-rated real brokers, not a joke like BullCFDs.
As to leverage, the broker reviewed states to provide up to 1:300 for retail clients, thus exposing itself as illegitimate- UK brokers can't offer such a ratio. Britain, as well as other countries, chose to restrict leverage because prior to the interventions, more than 90% of the people were losing money due to misuse.
BullCFDs DEPOSIT/WITHDRAW METHODS AND FEES
The minimum deposit is a subject of inconsistencies- it's either $2500 (according to FAQ) or $10 000 (according to Home Page). In any case, though, you shouldn't send those scammers a penny, let alone 10K.
As to funding, BullCFDs states to accept a variety of payment methods, but their deposit system happened to be mysteriously dysfunctional, so we can't verify the broker's claims.
The broker BullCFDs is a transparent platform that offers its clients good trading conditions. These are the qualities that, in our view, make this broker attractive: versatile and simple options for deposits and withdrawals; low commissions and fees; a $250 minimum deposit only, and adequate assistance and direction.
Overall, we exposed BullCFDs as fraudulent in this review, so make sure to avoid it.
BullCFDs Review
Real reviews on the net
Now it is observed that almost every week there are massively negative reviews. People accuse the project of fraud and demand a refund.
Important!

If you have come across this investment project, please describe your cooperation in the comments on our website. Your review will greatly help other Internet users to save their time, money and not mess with BullCFDs — https://www.bullcfds.com/
BullCFDs review — Conclusion
Conclusion of the review
BullCFDs (bullcfds.com) is another scam from an anonymous group of scammers who regularly create new pseudo broker sites to scam people. Fraudsters adhere to complete anonymity, hide behind someone else's legal data. Considering all the checks, it is strongly discouraged to invest in the BullCFDs.
Минусы